Ready to improve
your horse's perfomance?
Tell us about your horse and win
a free 30 day supply
(until November 30th 2020)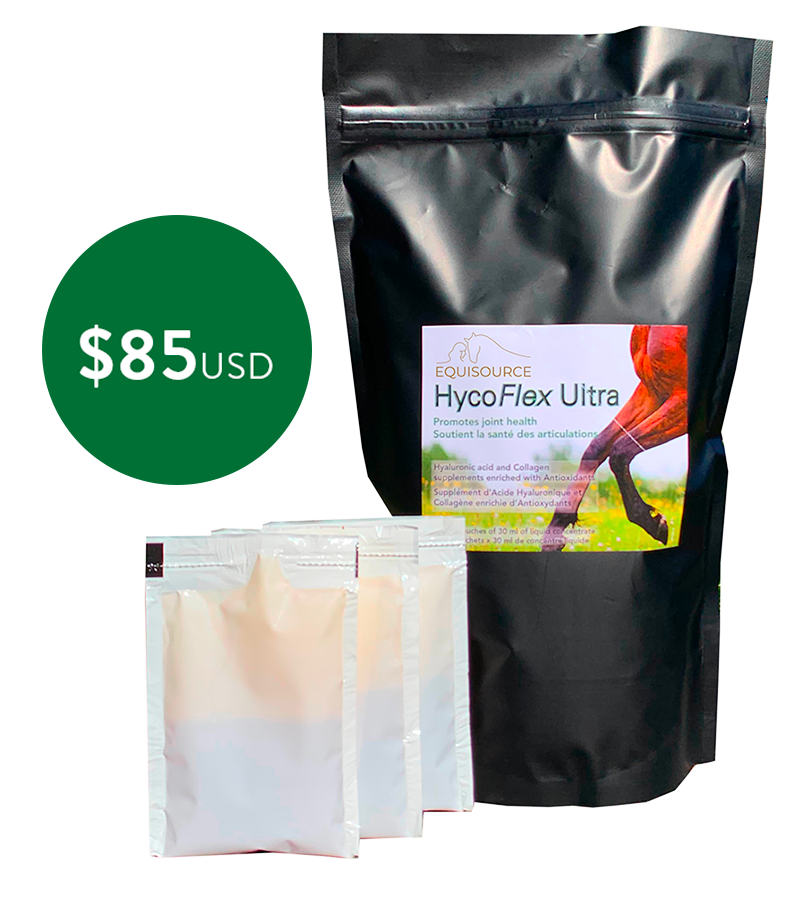 Supplement to support joint health and reduces inflammation
This supplement provides and supports
Ingredients : Water, Hydrolysed collagen, Hyaluronic acid (sodium salt), Citric acid, Natural flavours, Sodium benzoate, Potassium sorbate, Silicone.  May contain wheat, milk, eggs, peanuts, treenuts and sesame seeds. Contains 180 mg of Hyaluronic Acid per serving.
Recommended dosage and instruction for use
Give 1 pouch of 30 ml per day for 1 month. Renew  if necessary. For intense treatment give 2 pouches  per day morning and night. For maintenance, give 15 ml per day or 30ml every 2 days. Mix to feed or administer into horse's mouth directly using a syringe.
Advice from the veterinary
This food supplement can be given year-round if necessary. Depending on the horse's joint health, its weight and its activity level, dosage can be adapted. Please refer to your veterinary for advice on this product.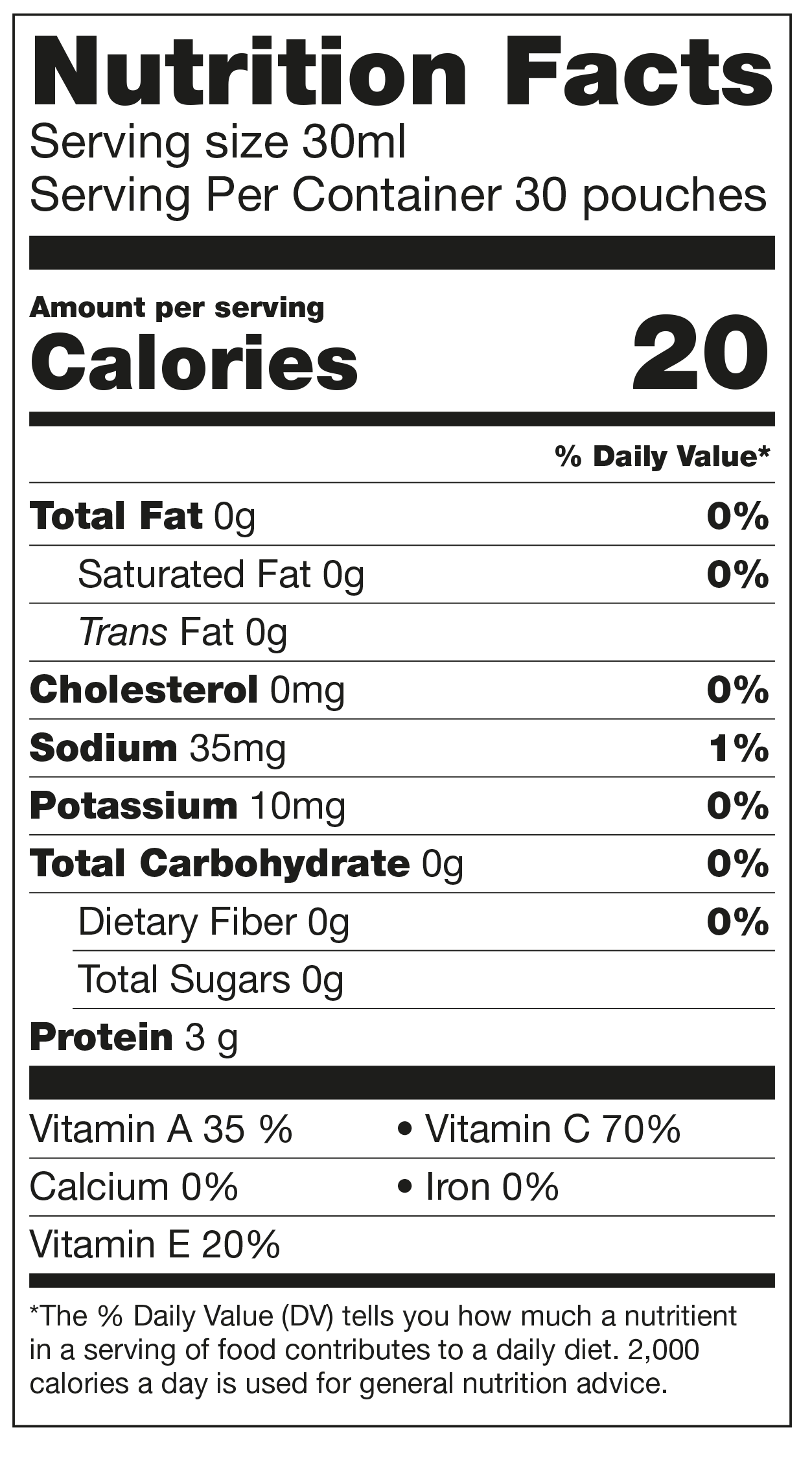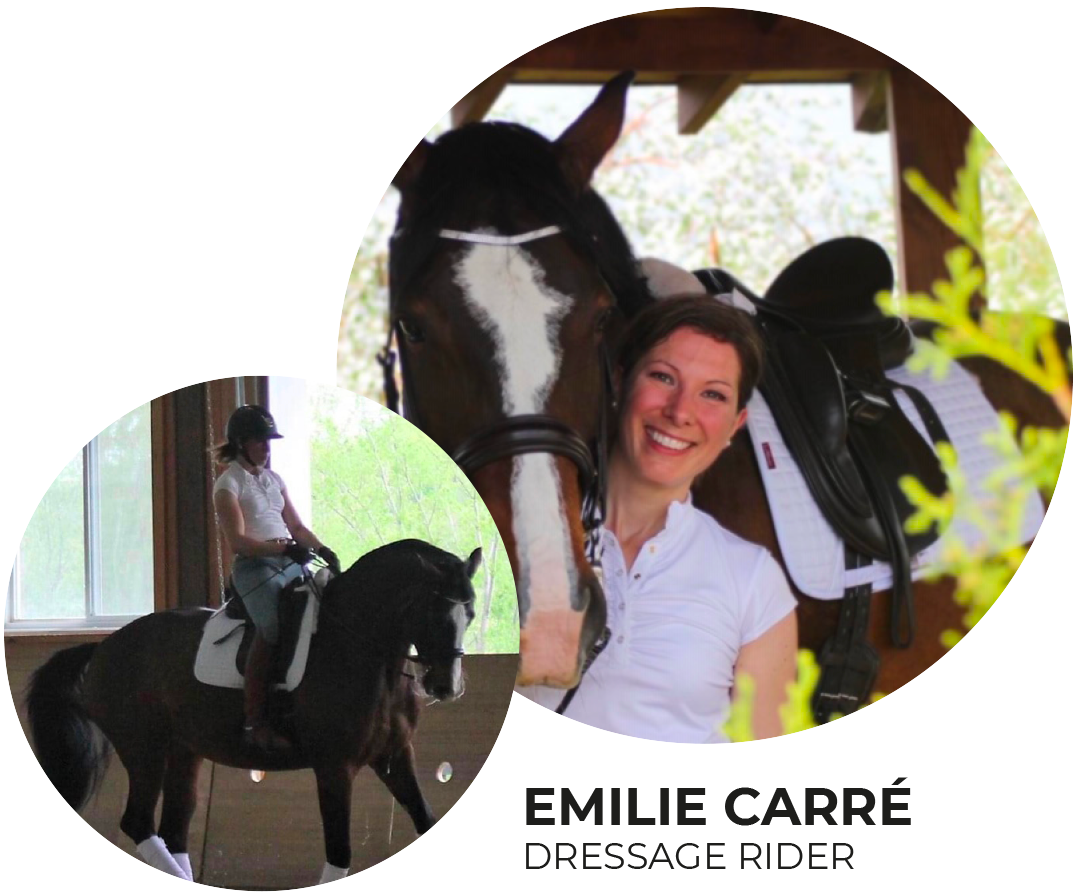 "As a dressage rider, it is important for me to give the best to my horses, so that they can perform at their peak! I started using HycoFlex products a few months ago, and within 2 weeks I have seen a marked improvement in the fluidity of my horses' movements. They were much more fluid, lighter and relaxed in their locomotion, but especially in the execution of more advanced movements. In addition, their post-workout recovery time was undeniably optimized. Having tried several joint supplement products for my horses, this one is by far the most effective and has given me real results. I highly recommend it for maintaining the health of your horses' joints and to optimize your performance!"
– Emilie Carré
"I give my horse the best possible care, so when I was asked to try HycoFlex I didn't hesitate for a second! Before I started using the HycoFlex product, my horse had a stiff back and had sacroiliac pain. You always had to walk along him to warm him before mounting him. He was receiving osteopathic treatment and had a few injections, but nothing was working long term. However, since using HycoFlex his movements have become much smoother and he needs less warming up. I saw a change after a week and now, a month later, the improvements are more marked.

In addition, my horse is very picky when it comes to his food. He used to stretch his feed and not always finish it, but since he has HycoFlex in his meals he eats quickly and everything."
– Clara Lauzon
"Rider for 30 years in dressage, I have used everything available on the market for the joint and muscle health of my horses. I tried Hycoflex out of curiosity and within 2 weeks I saw results on the fluidity of movement of my horses. It makes a big difference in training and in competition when we perform more complex movements with our horse. I recommend this product to all riders who want to improve the muscle and joint health of their horses."
– James Kurts
"My horse was showing signs of discomfort but had no apparent injuries or swelling. After just a few days of using the supplement, the signs of discomfort disappeared, and my horse regained its vitality. After a month, he is much more dynamic and playful than before."
– André
"I have a 12-year-old Warmblood who had joint problems. My trainer suggested that I try a new product that she takes for her horses. Since that time, he has been doing so much better. His movements are much smoother, and he has more energy. It's easy to serve as they are single servings and my horse loves the taste of peppermint. In 2 weeks, we have seen the difference and the results help us to perform better in our jumping courses. Well done Hycoflex ; )"
– Suzie Miller